Sustainability maximisation in technical applications
IOI Oleo GmbH pursues the self-declared goal of acting in an environmentally conscious and ecologically sustainable manner. At the beginning of the value chain in particular, we bear a great deal of responsibility and have a direct influence on the downstream industry. With this mission in mind and as a founding member of the RSPO, we develop sustainable solutions and products in all business units: The latest example is our MCT C8, which is now available as an SG-certified variant.
And it is exactly the same in IOI Oleo GmbH's Technical Applications business unit: We have already reported on the production of EPS (Expandable Polystyrene) and are happy to stick to this example: Under the name SOFTENOL®, we offer processing aids that our customers use for the production of EPS, also known as Styrofoam.
SOFTENOL® is made from purely vegetable oils, which are exclusively RSPO- certified raw materials. As an additional service for our customers, we offer blends that are individually adapted to the respective requirements of the end product. We thus ensure optimal production with highly efficient end products. And while we're talking about EPS, let's take a closer look at sustainability:
EPS makes a significant contribution to environmental protection because it is widely used as an insulation material. With an insulation layer of 14 centimetres, the requirements of the Building Energy Act (GEG) can easily be met. The "Holistic evaluation of various insulation alternatives" study carried out by the ifeu Institute and natureplus shows that Styrofoam performs very well in components in which only insulation panels can be used. Of course, sustainability goes further for us with the keyword "insulation": Good insulation ensures corresponding energy savings and thus less effort to generate energy. Another advantage is the issue of durability: Expanded polystyrene does not rot and remains in its function for up to 30 years, before it has to be disposed of.
Insulation with styrofoam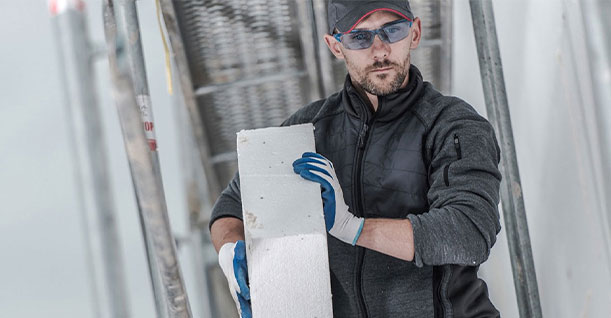 In the past, used Styrofoam had to be disposed of.  Nowadays, companies often work cooperatively on sustainable recycling processes, with the result that both expanded polystyrene and polypropylene are now 100% recyclable. Many of our customers rely on the work of PolyStyreneLoop, a non-profit organisation from the Netherlands. Members of the foundation are industry representatives from the entire value chain of polystyrene foam, for example PS foam manufacturers, raw material and additive suppliers, foam processors and recyclers. 74 companies and organizations are currently members of the cooperative. The basic principle is to keep resources in use for as long as possible and to reuse them as raw materials for new products at the end of their life span.
One of our basic principles is to offer sustainable and nature-based products. We take our responsibility to nature and society very seriously and therefore align our own sustainability guidelines with our goals and company guidelines. We are very happy that more and more consumers are assuming this basic awareness and are insisting that value chains are systemised in a sustainable manner.
Dr. Andreas Wintzer
Dr. Andreas Wintzer is Technical Product Manager in the Technical Applications Business Unit at IOI Oleo GmbH. He studied Chemistry at TU Dortmund University with an emphasis on technical chemistry, particularly in the area of renewable raw materials. The extensive knowledge he acquired during his studies is the perfect basis for his work at IOI. Before joining IOI Oleo GmbH, Andreas completed a trainee programme at the European Space Agency in the Netherlands, then gained production experience as a technologist at Papierfabrik Hagen, which at the time belonged to the Stora Enso group. He enjoys sports, regularly rides to work by bike and preferably spends his leisure time with his family or friends.