The Future of Capsules – Even better with IOI
With sales of around $27 billion in 2019, capsules are the second most popular dosage form after tablets. Experts predict annual growth of 9%, which means that the capsule could already reach a market volume of $54 billion by 2027. Its popularity is easy to explain, as it offers numerous advantages. In combination with the product portfolio of the Pharma business unit of IOI Oleo GmbH, further benefits can be generated.
Capsules are en vogue, and rightly so. Above all, consumers appreciate the fact that they are easier to take and unpleasant sensory properties of active ingredients and excipients are not perceived. But it is above all for the formulator and during production that the full potential of capsules is revealed.
Capsules can be dosed effortlessly and precisely, are inexpensive to produce, durable and space-saving. They also enable gentle processing of sensitive ingredients. A fundamental distinction must be made between different capsule types:
Hard Capsules
Hard capsules are preferred for solid fillings such as powders and granules. They consist of two prefabricated halves that are pushed over each other; fine grooves prevent the filling from escaping and ensure a tight seal.
Soft Capsules
Soft capsules consist of 2 halves that are tightly connected by a weld seam. They are particularly suitable for oils, emulsions and preparations from a liquid to pasty consistency.
Chewable capsules
This dosage form was specially developed for chewing and therefore allows larger sizes. Even products that pose a sensory challenge, such as fish oil, can be given a pleasing taste through flavouring.
Focus on really needed ingredients in capsules
Following the general trend towards low-complexity formulation development, the biggest advantage for formulators and producers of capsules in the pharmaceutical industry is to focus on the excipients really needed for efficient delivery of the active ingredient(s).
IOI Oleo GmbH's pharma portfolio offers a range of functional de novo synthesized lipids that can be used in all capsule types.
Poorly soluble active ingredients of BCS classification II + IV can be successfully administered with the help of our products, as it is possible to use them in special active ingredient release systems such as SEDDS

Drug absorption or penetration can be improved through targeted control of polarity and surface-active properties, thus increasing bioavailability

Broad range of properties and textures

Dietary benefits due to special metabolism of medium-chain lipids

Products are of plant origin

The following active ingredients are delivered in capsules with our excipient: Hormones, Cannabinoids, Protease Inhibitors, Alpha Blockers, Androgen Blockers, Tyrosine Kinase Inhibitors, Vitamins & Vitamin Derivatives
The following table provides an overview of which products are suitable for which applications:
| | | | | | Hydroxyl Value [mg KOH/ g] | |
| --- | --- | --- | --- | --- | --- | --- |
| | | | | < 1% | < 50 | Carrier |
| | Glycerol Monocaprylate, type II | 27 – 33 | solid | > 80 % | 450 – 550 | Carrier, Solubilizer & Bioavailibility booster* |
| | Glycerol Monocaprylocaprate, type I | ~ 25 | Liquid via pasty to solid | 45.0 – 75.0 | 315 – 380 | Carrier, Solubilizer & Bioavailibility booster* |
| IMWITOR® 988 | Glycerol Monocaprylate, Type I | ~ 23 | | 45.0 – 75.0 | 315 – 380 | Carrier, Solubilizer & Bioavailibility booster* |
| | Triglycerides, Medium-Chain | < 0 | | < 1 | < 10 | |
| | Triglycerides, Medium-Chain | < 0 | | < 1 | < 10 | |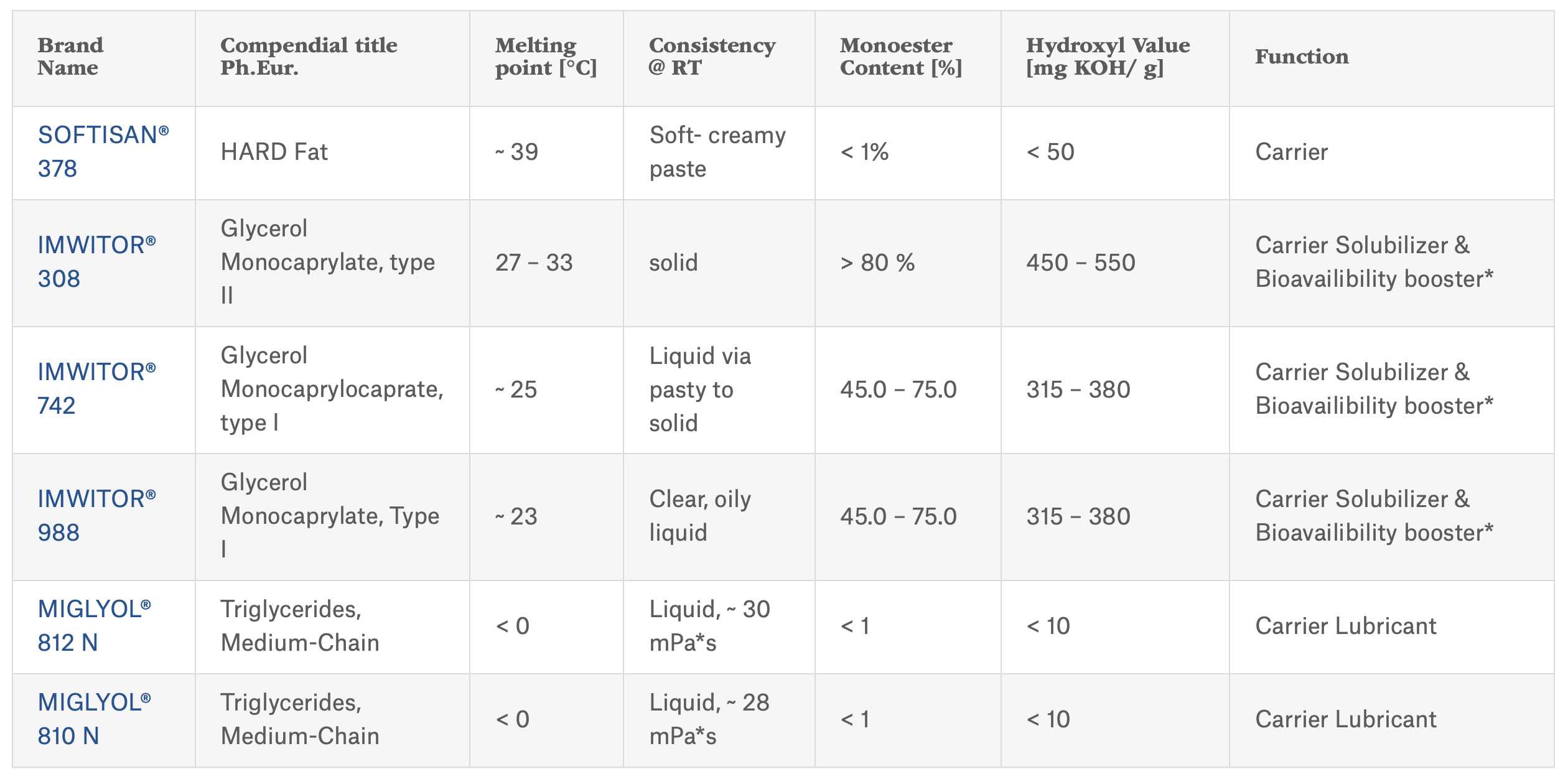 *Bioavailability booster: Absorption of poorly absorbable APIs is improved in the human body. Leads to either greater effect of API or less API needs to be introduced.
The formulation-specific suitability of individual raw materials depends, among other things, on the expected polarity of the ingredients. For example, low polarity products would be suitable for use in CBD products (see our article – "The Green Rush"). Our products cover a wide range in polarity and can be brought into relation as follows:
All these products are fully miscible with each other, so that melting point, bioavailability, solubility, polarity or texture can be specifically adjusted.
IOI Oleo GmbH is a leading global expert and innovator in value-added ester-based lipid solutions for health management and personal well-being. We are happy to support and advise you on the optimal use of our products to make your formulation more efficient.
Robert Radsziwill
Robert Radsziwill joined IOI Oleo GmbH in 2019 as Sales Manager Europe in the Pharma division. Prior to joining IOI Oleo Pharma, Robert held technical and commercial roles in sales and product management for nine years at a supplier of raw materials to the Pharmaceutical and Medical Device industry. Through his experience with materials for pharmaceutical use and medical devices, Robert has contributed to the successful initiation and completion of new product development projects with industrial and academic partners in the Healthcare sector. Understanding, ranking and navigating technical, functional and regulatory concerns are paramount for him during early project ideation and material selection to ensure success for all project participants. Robert earned his diploma degree in Business Chemistry at the Westfälische-Wilhelms-University of Münster and has focused ever since on those disciplinary interfaces where technical and commercial minds join forces to innovate and improve the status quo.