SOFTISAN® 649 – THE plant-based synthetic Lanolin Alternative
Lanolin or wool wax is a versatile ingredient and was used medicinally in ancient times. Lanolin is the secretion from sebum glands of sheep and is formed on the surface of their skin. However, the animals have to be treated with pesticides to protect them from parasites. The problem here is that these pesticides accumulate in the wool wax and can later lead to strong allergic reactions in users. This motivated IOI Oleo GmbH to develop a plant-based, synthetic alternative: et voila, SOFTISAN® 649 has since enriched our portfolio and has, among other things, made a name for itself as a lanolin substitute in the pharmaceutical industry.
Pesticides are highly allergenic and can sometimes trigger life-threatening allergic reactions in humans. But even if the permitted limit values in wool wax can now be reduced with the help of complex chemical processing, some people are allergic to the naturally contained wool wax alcohols.
Our SOFTISAN® 649 has a completely different chemical structure yet offers identical properties: it has the same, very good adhesion to the skin and mucous membrane with a very high water absorption of significantly more than 200%. In addition, when SOFTISAN® 649 is mixed with water or moisture, a stable emulsion is created.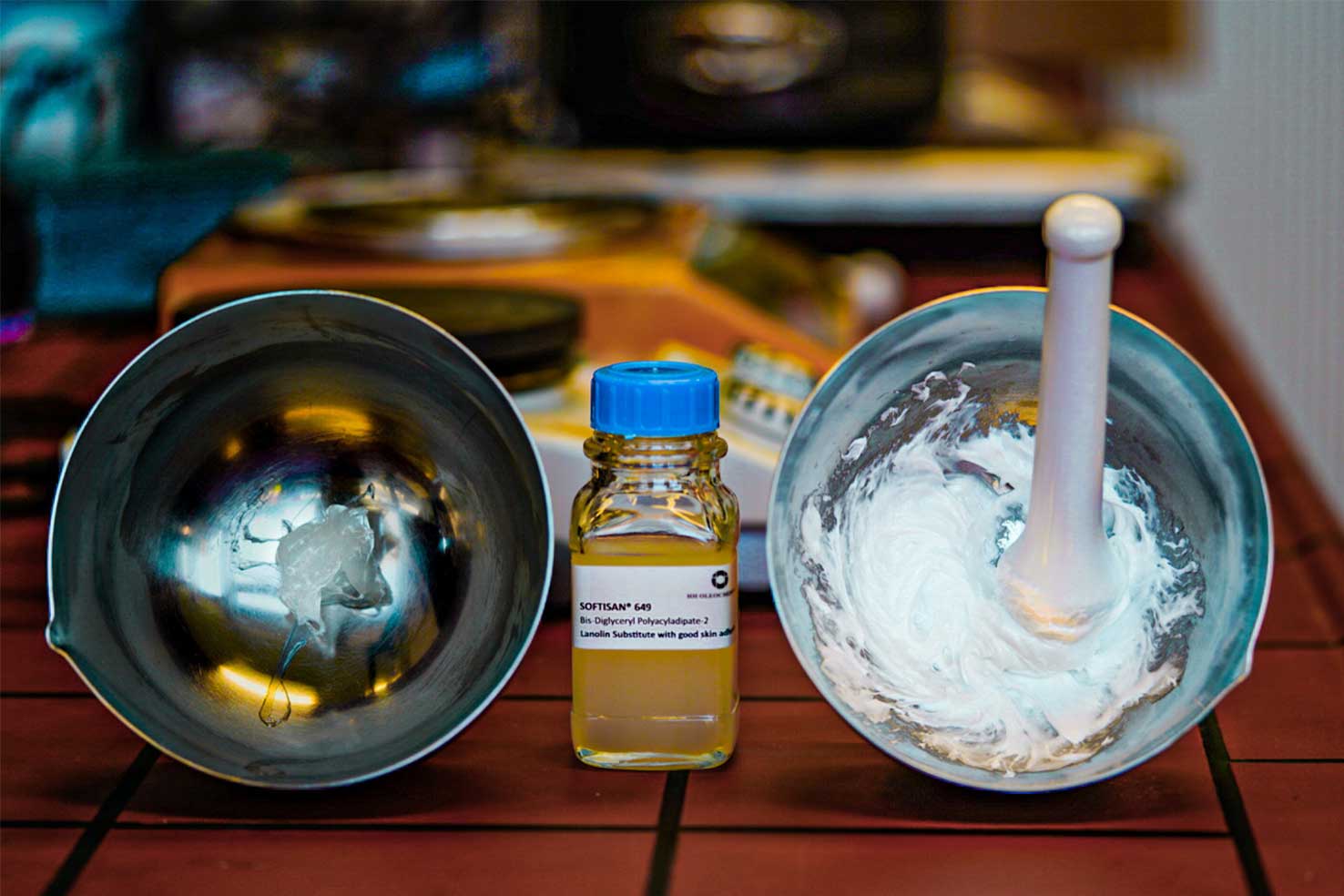 Left: SOFTISAN® 649 unprocessed, Right: SOFTISAN® 649 mixed with 230% Water.
In addition, SOFTISAN® 649 has other invaluable advantages over Lanolin:
It guarantees consistently excellent quality through carefully selected natural and synthetic raw materials as well as production in a validated GMP production process

Due to these manufacturing processes and close monitoring, no pesticide contamination is to be expected

SOFTISAN® 649 is chemically clearly defined and – in contrast to lanolin, which is made up of numerous different individual compounds – is not subject to any natural fluctuations

SOFTISAN® 649 does not contain any unsaturated components and is therefore extremely stable against oxidative influences

No additives such as antioxidants or preservatives are added

SOFTISAN® 649 is practically odourless, has a light to beige colour and is vegan
Our lanolin alternative is used in numerous pharmaceutical products and has proven itself on the international market. Especially because of its extremely good skin and mucous membrane adhesion, SOFTISAN® 649 is particularly suitable for:
WOUND CARE
Due to the very good skin adhesion, active ingredients in creams and ointments stay longer on the wound.
LIPS AND NOSES
It prevents active ingredients from being prematurely removed by abrasive processes or a high level of moisture and thereby reducing the effectiveness.
WOUND PADS
Due to the high water absorption capacity, it helps to keep the wound dry and thus promote or accelerate the healing process.
If you need additional information about the use of SOFTISAN® 649 in the pharmaceutical industry, please contact us! Or take part in our exciting webinars. You can find the recording of the webinar about SOFTISAN® 649 here, in our Product Finder and on YouTube
Michael Plum
Michael Plum has been a member of our Pharma team since 1989. As Application Engineer, he is in close contact with our global industrial customers. With his background of more than 30 years of experience in the industry, he is a competent contact partner for any technical, regulatory or formulation related questions in the context of IOI's pharmaceutical excipients. As an experienced and passionate home brewer, Michael Plum attaches great importance on the quality of his homemade products. He applies this setting on the technical related customer's requests also in order to provide best support to our valued customers.