Committed to Sustainability – CPHI 2022
In November, the CPHI 2022 in Frankfurt, the leading trade fair for the pharmaceutical industry, finally ended our long absence from trade fairs. We were all very excited to finally see our customers, business partners and friends again, resume personal discussions and make new contacts. One topic was especially important to us: Sustainability. And we were particularly proud of an innovation with a great deal of potential.
This year's CPHI was characterized by a positive spirit and inspired by an influential industry report that sees Germany at the top of the global comparison when it comes to the quality of pharmaceutical products (click here for the report).
The report underlines what we have already been working on for a long time. In line with the motto of "tried and trusted" we are well known as a supplier of high-quality excipients and APIs. Our modern production facilities are GMP-certified and meet the highest standards. We are proud to be among the first manufacturers of GMP-certified excipients and to serve as a benchmark in terms of quality. (Our brochure "Quality & Regulatory" brochure provides comprehensive information).
Discussions with our distributors, customers and partners have confirmed that we are not just heading in the right direction because of our products. Moreover, another reason for the success of IOI Oleo GmbH is that we keep our eyes and ears open, think outside the box and view our services in a holistic way.
Fully committed to sustainability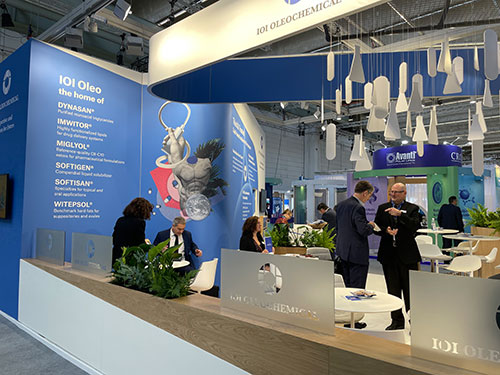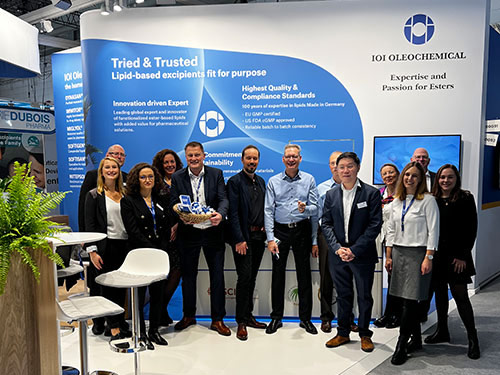 The topic of innovation was also not neglected at the fair. Our experts were happy to present our new WITARIX® MCT powder AC8CN. It is based on just two, purely plant-based ingredients. Our WITARIX® MCT C8 coconut oil made in Wittenberge and acacia gum, and supports ketosis in a natural way. Our MCT Powder is characterized by a particularly high oil content of 70% and is ideal for use in dietary supplements and nutraceuticals. Anyone who wanted to could get an energy boost at our booth – our team mixed them a tasty drink with our MCT powder.
After three days of hustle and bustle at the trade fair, we can now say "It was a great trade fair! We received an incredible amount of positive feedback and had what felt like non-stop constructive discussions". And with this exhilarating feeling, we look forward to the next CPHI in Barcelona and to inspiring you again with sustainable and innovative products.
Janine Harnik
Janine Harnik is Product Manager Pharma at IOI Oleo GmbH. With altogether more than 15 years of experience in Sales and Product Management in the areas of Phamaceuticals, Cosmetics and Nutrition, she has a comprehensive view of the business. She finds the wide variety of applications for our vegetable-based specialties particularly fascinating. Instruction leaflets, INCIs and ingredient lists are all read closely wherever the opportunity arises – after all, you never stop learning. In her leisure time, Janine has always been an enthusiastic volleyball player and when she is not on the volleyball court with her team, she enjoys spending time with her family.