IMWITOR® 600 – Naturally soft emulsifier, for a perpetual caress
A praline can undoubtedly be called the queen of chocolate specialties. And rightly so, because it usually consists of special flavour compositions and requires an elaborate and technically demanding production method. There is a critical moment in production – namely when the praline is covered with melt-in-the-mouth chocolate. IMWITOR® 600 was created over 20 years ago precisely for this moment and has since become an integral part of the wonderful world of chocolate. Something that is suitable for pralines can also be transferred perfectly to cosmetics. Curious?
Our IMWITOR® 600 is used in the production of pralines, among other things to reduce the viscosity of the chocolate so that it flows more smoothly. It does this through a wide range of molecules that interact individually with all components in chocolate (e.g., proteins, sugar, fats and salts). But how can IMWITOR® 600 be used in cosmetics? Grab a piece of chocolate and let's dive in!
Care products are often emulsions such as creams, lotions or ointments. There are two basic types of emulsion: oil in water (O/W) and water in oil (W/O). The two main components of an emulsion cannot be mixed, which is why emulsifiers are necessary. O/W systems can be produced relatively easily, for example with our emulsifiers IMWITOR® 372 P (Robust, Reliable, Renewable) or IMWITOR® 375, for a light as a feather skin feel. However, if water is introduced into the lipid phase (W/O emulsion), the formulation should be precisely balanced and certain steps in the production process followed. With a low HLB value (Hydrophilic-Lipophilic-Balance) of 4, IMWITOR® 600 reliably emulsifies water in oil and is therefore perfectly suitable for producing W/O emulsions.
Typically, W/O emulsions are more caring, as the properties of the outer, oil-containing phase are in the foreground. This makes them particularly interesting for dry skin that needs extra care. The water contained in the emulsion makes it easier to absorb, compared to using pure body or face oils. W/O concepts can often be found in the area of wound and healing creams, but also in night creams, hand and foot creams or even in make-up formulations. With our W/O emulsifier you can, of course, also formulate rich, but especially incredibly soft, smooth and non-oily/waxy products; properties that are often associated with an O/W emulsion.
OUT-OF-ORDINARY W/O SKIN FEEL!
Another large area should not be ignored: sun protection products! A W/O emulsion is often the technology of choice here as many of the UV filters are oil-soluble. The challenge is to achieve a high sun protection factor and at the same time minimize the oily, sticky feeling on the skin. With IMWITOR® 600, not only sun care W/O emulsions become smooth creams and lotions that leave the skin feeling velvety and super soft.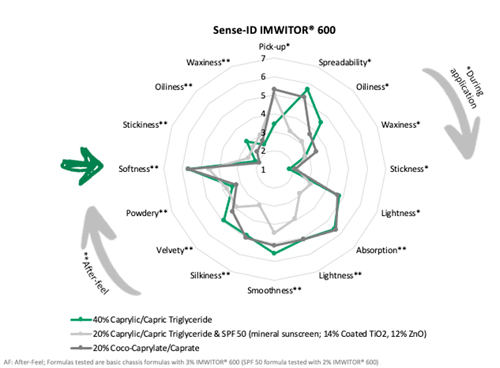 METHOD
Three different formulas (20% oil, 20% oil & SPF 50 (mineral), 40% oil) tested by 9 volunteers
Test area: Forearm
Product was applied in a defined area with 20 circles (rub-out phase / during application)
Evaluation was done during and after application (1 Minute after rub-out phase)
Scale 1 (low) – 7 (high)
RESULTS
Good absorption
Light after-feel
Soft sensory is not dependent on the oil content of the formula -> super smooth & velvety sensory in all formulas
Non-oily, non-waxy, non-sticky after feel
100% vegan & natural and obtained from carefully selected, renewable sources such as sunflower and rapeseed

Softly wrapping skin and soul in a pure comforting caress

Super soft sensory, even in sun care concepts

Perfectly suitable for the whole family: mild baby formulations, high-performance sun and colour care and extra soft skin care

Does not build up viscosity and is perfect for low viscous concepts

Creates (in combination with other ingredients) diverse textures (from liquid like milk to buttery like balms)

Allows a very high water phase (up to 80%) and a high oil phase (up to 50%)

Can also be used as a co-emulsifier for improved sensory properties and spreading (from 0.5 – 2.0%)

Compatible with numerous oils, pigments and, among other things, inorganic UV filters

Tolerates up to 20% alcohol

Can be used hot or cold, which means less energy consumption, easy-to-use liquid (can be pumped)

Can be added directly to the oil or pigment phase
For an easy entry into the world of W/O emulsions, we recommend the following basic formulation:
Oil phase: 3% IMWITOR® 600, 1% SOFTISAN® 100 or 1% wax, 20% – 40% oil, 0.2% tocopherol. Water phase: active ingredients, 3% glycerine, 1.2% ZnSO4, fill up to 100% with demineralized water
VOILÁ! – a stable and soft W/O emulsion that you can now adapt to your concept as you wish with different emollients, consistency generators and actives.
Insa Waller
Insa Waller has a background in cosmetic chemistry and marketing. Before joining IOI, she gained experience in B2C product development (skin care) and production. After a position as sales manager (german-speaking countries), Insa moved to the CARE Studio, IOI Oleo's in-house showroom and application lab in Hamburg, as an application engineer. Since graduating with a degree in marketing, she also works as technical marketing. Insa has a passion for cosmetics, fashion and trends and enjoys going for a run.