The skin care routine you stay true to – skip-care with Simply Sticks
Do you remember the "10 Step Korean Skin Care Routine"? The ten steps promise great results, but above all they cost a lot of time in the morning and evening. For this reason, we have developed our "Simply Sticks Kit" and ensure efficient skin care with multifunctional formulations.
The Simply Sticks Kit picks up on the K-Beauty trend "Skip-Care", which deals with skipping steps in the care routine. This leaves enough time to cleanse, nourish and protect the skin, even on a busy morning.
Is one trend not enough for you? How about "skinminalism", "solids", "hybrid cosmetics" and "anhydrous cosmetics"? Our three Simply Sticks, which premiered at the Paris cosmetics fair COSMET'AGORA in January, meet all of these trends.
The name "Simply Sticks" says it all. They are:
Simple (easy to make, easy to customize, easy to use)

Solid (solid, anhydrous and easily pourable)

Sustainable (vegan, based on natural ingredients, packaging-free is possible)

Sensorial (skin feels from soft, mild, nourished to non-sticky and very soft)
SIMPLY STICKS

SIMPLE, BASIC & FUNCTIONAL
Simply Stick – Cleanser
Minimalistic concept (11 ingredients)
Mild formula, perfect for young & oily skin
Glides & melts on skin
Eco-conscious easy-to-rinse concept
Soft and nourished after-feel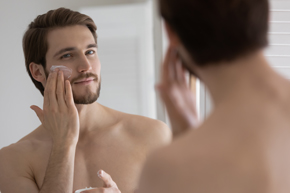 Simply Stick – Balm2Lotion
Minimalistic concept
Multi-use
1. Use as balm in winter times
2. Use as light lotion in summer
DIY transformation – simply mix with hot water
Simply Stick – Sun
Minimalistic concept (8 ingredients)
Fun clear stick format
Travel-friendly on-the-go use for kids
Mess-free stick for lips, body & face
Moisturizes and softens skin
Soft, non-sticky skin feel
Anhydrous stick with easy glide & rinseability, for a creamy and soft application
This concept is intended for daily cleansing – even for young, oily skin. Why? This stick not only cleanses mildly but also nourishes and moisturizes. Applied to wet skin, the stick transforms into a creamy balm.
| | | |
| --- | --- | --- |
| ABOUT TECHNOLOGIES | SENSORIAL TECHNOLOGIES | EMOTIONAL TECHNOLOGIES |
| This anhydrous stick has a low melting point and is easy to apply to wet skin. The basis of the formulation, MIGLYOL® Gel B, provides the texture and hardness, at the same time facilitating application thanks to its thixotropic properties. | Due to MIGLYOL® Gel B, the stick glides and "melts" comfortably on the skin. The mild emulsifier IMWITOR® 372 P ensures immediate emulsification on contact with wet skin or water; SOFTISAN® PG2 C10 leaves a soft skin feeling. | The Simply Stick Cleanser is anhydrous, vegan and formulated with over 92% natural ingredients. This makes it not only particularly sustainable, but also the perfect travel companion. |
Our Star-Ingredient – MIGLYOL® Gel B
This master gel serves as the basis of the formulation and ensures good heat stability (the gel does not melt), leaves the skin feeling soft and cared for; thanks to its thixotropic properties, smooth application is child's play.
Other Benefits:
By varying the concentration of MIGLYOL® Gel B and fatty alcohol, both a paste and a solid piece (packaging-free) can be formulated
Easy to rinse off – saves water
Hybrid Care: cleanses, hydrates and softens the skin
Efficient: one-pot process, no cooling necessary after filling
Anhydrous melt-on-touch nourishing balm that transforms into a light caring lotion
This formulation is suitable for those who want to be surprised every day with a new sensory experience. How does it work with only one formulation?
Use the formulation pure as a rich caring balm – e.g. in the cold season on rough lips, dry skin on legs and elbows.
In summer, mix the product with boiling water at home (1:1, 1:2, depending on the consistency you want). The solid balm magically turns into a light, thin lotion that spreads easily, absorbs quickly and leaves you with a hydrated feeling.
| | | |
| --- | --- | --- |
| ABOUT TECHNOLOGIES | SENSORIAL TECHNOLOGIES | EMOTIONAL TECHNOLOGIES |
| The Balm2Lotion Stick is anhydrous – but transforms into a lotion on contact with hot water. IMWITOR® 372 P is "activated" when mixed with water and ensures that the emollient/emulsifier stick forms a gentle cream or lotion. | Two applications = two completely different sensorial technologies. As a balm, the stick has a rich, caring and nourishing effect thanks to the melt-on-touch emollient SOFTISAN® 378.  The lotion, on the other hand, is quickly absorbed into the skin and leaves it feeling light and hydrated (SOFTISAN® conditionHAIR). | The Balm2Lotion Stick is not only sustainable (vegan, formulated with more than 98% natural ingredients), but also suitable for the whole family – for dad's chapped lips, for grandma's dry hands, or a fast-absorbing lotion for kids' scalps. This stick adapts to your needs. |
Our Star-Ingredient – DYNASAN® 118
DYNASAN® 118 is a solid lipid with a melting point of 69 to 73°C. While waxes and fatty alcohols often result in more body and hardness, but also reduced pay-off, this triglyceride offers a balance between heat stability and a comfortable glide on the skin.
Other Benefits:
2in1 concept
Sustainable alternative to body lotion or face cream
Multifunctional, the desired consistency can be created in no time at all
Formulation is suitable for use on the entire body
High percentage of natural ingredients (>98%)
Efficient: one-pot process, no cooling required after filling
On-the-go non-sticky sun stick for eco-friendlier anhydrous concepts
Contrary to what you might expect from a sunscreen, this stick is transparent with an SPF of 25! The balanced concept is non-sticky, easy to apply and, due to the colourless formulation, counteracts the "white cast effect", a grey haze that can occur when using Sun Care products on darker skin.
| | | |
| --- | --- | --- |
| ABOUT TECHNOLOGIES | SENSORIAL TECHNOLOGIES | EMOTIONAL TECHNOLOGIES |
| This formulation can be used for lips, face and body. Due to its transparency, it does not leave a grey haze on the skin. MIGLYOL® 8810 ECO also makes a high SPF possible. | The Sun Stick glides very pleasantly and easily on the skin. Together with the excellent film-forming properties, this ensures that no skin area remains unprotected. In addition, the skin is moisturized and the stick leaves a soft feeling on the skin. | This vegan concept consists of only eight ingredients and follows the trend of hybrid cosmetics. It protects the skin from the sun's rays and moisturizes it at the same time. The fragrance-free stick can be best used for "genderfluid" and "all ages" concepts. |
Our Star-Ingredient – MIGLYOL® 8810 ECO
The polar emollient MIGLYOL® 8810 ECO enables a simplified dissolving of UV filters (and the wetting of pigments in the colour care area) due to its chemical-physical properties. Its sensory profile (medium diffusion, high gliding and no stickiness) provides a water-light feel in all types of formulations.  Moreover, MIGLYOL® 8810 ECO is biodegradable and non-toxic to aquatic life – ideal for more sustainable sun care concepts.
+ Now also with new data from an external laboratory on skin hydration (corneometry) – Contact us.
Other Benefits:
Technology can be easily applied to other products (for example, transparent lipsticks, body massage sticks or solid perfume)
Higher percentage of natural ingredients (>48%) compared to other transparent sun sticks
Multifunctional: protects the skin from the sun's rays and moisturizes the skin
High heat stability, yet easy to apply
Simple manufacturing process: weigh, heat, fill – done
Our Personal Care Team was at the COSMET'AGORA in Paris in January. The Simply Sticks presented there struck a chord with the audience: water-free, stick format, sustainable, simple process and easy to use. Simply Sticks!
Did you miss us? Then we look forward to seeing you at booth U80 at in-cosmetics in Barcelona, where, in addition to Simply Sticks, you can test other TrendKits and exchange ideas with the formulation professionals from the CARE Studio.
We are at your disposal as usual to answer any questions you may have:
Insa Waller
Insa Waller is Application Engineer in the CARE Studio. She is a graduate of the Ostwestfalen-Lippe University of Applied Sciences and Arts, where she received an Engineer's degree in Cosmetic and Detergent Technologies. Before joining IOI, Insa worked at LR Health & Beauty, developing skin care products. Insa is fascinated by the world of cosmetics and is always up to date on the latest fashion trends. After work, she is currently doing a Master's course in Sales and Marketing at the Wismar University of Applied Sciences.