The skin care routine you stay true to – skip-care with Simply Sticks
Do you remember the "10 Step Korean Skin Care Routine"? The ten steps promise great results, but above all they cost a lot of time in the morning and evening. For this reason, we have developed our "Simply Sticks Kit" and ensure efficient skin care with multifunctional formulations.
The Simply Sticks Kit picks up on the K-Beauty trend "Skip-Care", which deals with skipping steps in the care routine. This leaves enough time to cleanse, nourish and protect the skin, even on a busy morning.
Is one trend not enough for you? How about "skinminalism", "solids", "hybrid cosmetics" and "anhydrous cosmetics"? Our three Simply Sticks, which premiered at the Paris cosmetics fair COSMET'AGORA in January, meet all of these trends.
The name "Simply Sticks" says it all. They are:
Simple (easy to make, easy to customize, easy to use)

Solid (solid, anhydrous and easily pourable)

Sustainable (vegan, based on natural ingredients, packaging-free is possible)

Sensorial (skin feels from soft, mild, nourished to non-sticky and very soft)
SIMPLY STICKS

SIMPLE, BASIC & FUNCTIONAL
Simply Stick – Cleanser
Minimalistic concept (11 ingredients)
Mild formula, perfect for young & oily skin
Glides & melts on skin
Eco-conscious easy-to-rinse concept
Soft and nourished after-feel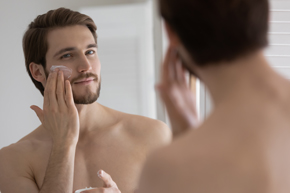 Simply Stick – Balm2Lotion
Minimalistic concept
Multi-use
1. Use as balm in winter times
2. Use as light lotion in summer
DIY transformation – simply mix with hot water
Simply Stick – Sun
Minimalistic concept (8 ingredients)
Fun clear stick format
Travel-friendly on-the-go use for kids
Mess-free stick for lips, body & face
Moisturizes and softens skin
Soft, non-sticky skin feel
Our Personal Care Team was at the COSMET'AGORA in Paris in January. The Simply Sticks presented there struck a chord with the audience: water-free, stick format, sustainable, simple process and easy to use. Simply Sticks!
Did you miss us? Then we look forward to seeing you at booth U80 at in-cosmetics in Barcelona, where, in addition to Simply Sticks, you can test other TrendKits and exchange ideas with the formulation professionals from the CARE Studio.
We are at your disposal as usual to answer any questions you may have:
Insa Waller
Insa Waller has a background in cosmetic chemistry and marketing. Before joining IOI, she gained experience in B2C product development (skin care) and production. After a position as sales manager (german-speaking countries), Insa moved to the CARE Studio, IOI Oleo's in-house showroom and application lab in Hamburg, as an application engineer. Since graduating with a degree in marketing, she also works as technical marketing. Insa has a passion for cosmetics, fashion and trends and enjoys going for a run.